Inline Water Meter With Garden Hose Thread Inlet & Outlet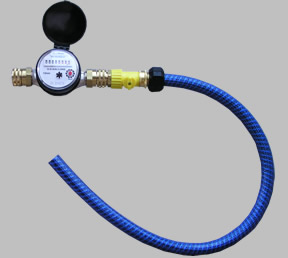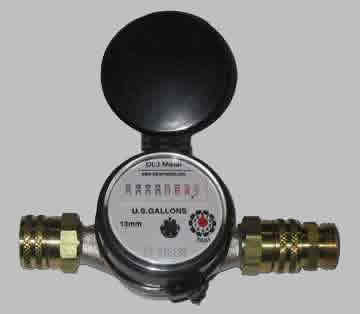 This water meter features an easy-to-read odometer type reading in single gallons (down to the tenth) and an additional rotary dial with a sweep hand reading one tenth of a gallon per revolution with graduations down to 1/100 of a gallon (1.28 fl oz). There is also a spinning trickle indicator showing if there is any flow at all to detect leaks. Total registration on the water meter dial is up to 10 million gallons, but the meter will last much longer than that. This meter is quality constructed of nickel plated waterworks bronze according to ISO 4064 standards for accuracy, quality and length of service life.
Meter is supplied with a shutoff valve and backpressure hose.
| | | | |
| --- | --- | --- | --- |
| Part Number | Description | Price | |
| 1020000 | Water meter with garden hose thread inlet and outlet, complete with fittings, shutoff valve and backpressure hose. | | |
| 1020001 | Water meter with garden hose thread inlet and outlet, complete with fittings | | |